Overview of Touchdown
Touchdown is a marketing suite completely integrated within Microsoft Dynamics 365 and compatible with your business applications allowing you to use your custom entities (leads, contacts, accounts, etc.), communicate through email campaigns, SMS texts, engage your customers, leads and prospects in complex automated scenarios, interact with them through campaigns, landing pages, forms and manage digital marketing within an intuitive interface.
Install, customise and start using Touchdown in three simple steps described below.
Touchdown is a PowerApps solution that can be fully customised according to your preferences and that takes less than 2 hours to fully set up.
Follow this article to learn in detail how to install Touchdown.
To start using Touchdown connect to your Dynamics 365 and access your Dynamics environment:
Go to My apps by clicking on the arrow next to Dynamics 365 or your logo in the top left corner
Select Touchdown from the app list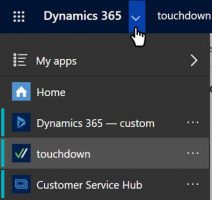 Touchdown is completely integrated within Dynamics therefore fully customisable according to your needs. As shown in the picture below, we also suggest a default layout of Touchdown menu and Touchdown home based on expertise observing our customer behaviour.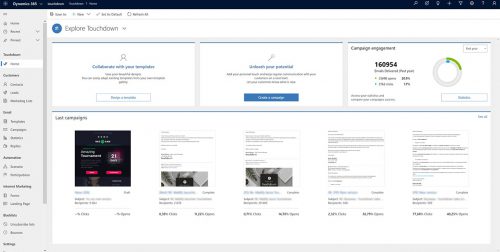 Contacts – Manage all your contacts saved within Dynamics.
Leads – Manage all your leads saved within Dynamics.
Marketing lists – Target your entities like contacts, leads or custom entities.
Templates – Design and save your own email templates for later use or inspire yourself and adapt Touchdown templates with the drag-and-drop builder.
Campaigns – Create your email campaigns and analyse results of sent campaigns. Duplicate existing or create new email campaigns using your saved templates, the Touchdown templates, a plain text or import an HTML code. 
Statistics – Analyse your overall email marketing performance and view your 5 most successful email campaigns.
Replies – Gain a complete overview of all the manual and automatic replies from your leads and your customers to all your email campaigns.
Scenarios – Automate your marketing from predefined templates, duplicate or adapt the existing automated scenarios.
Participations – Obtain a complete overview of all the participants who have entered into your published automated scenarios and view their progress.
Forms/Pages – Design your forms and landing pages, adapt templates or modify existing ones with the drag-and-drop builder. Decide whether to embed your forms in a landing page, in a pop-up or on your website.
Submissions – Get a complete overview of all the submissions to your different published forms.
Events – Conceive, plan and create your events that are easily linked with your registration forms, your marketing lists and your automated scenarios for the promotion, reminders, follow up, etc.
Registrations – Gain a full overview of all the participants registered for each of your events.
Unsubscribe lists – Create your unsubscribed lists or manage existing ones.
Bounces – Collect all your automatically detected hard bounces in one place.
Senders – Create your dedicated domain names for the purpose of your communication to increase your deliverability.
Domains – Manage your domain names configured by Touchdown.