Automation templates
Touchdown proposes automation templates addressing different purposes that you can simply adapt to your case.
All the automation templates appear when you want to create a new automation scenario.
To access them:
Go to Scenarios
Click on + New
Enter the name of your scenario and click the template you want to adapt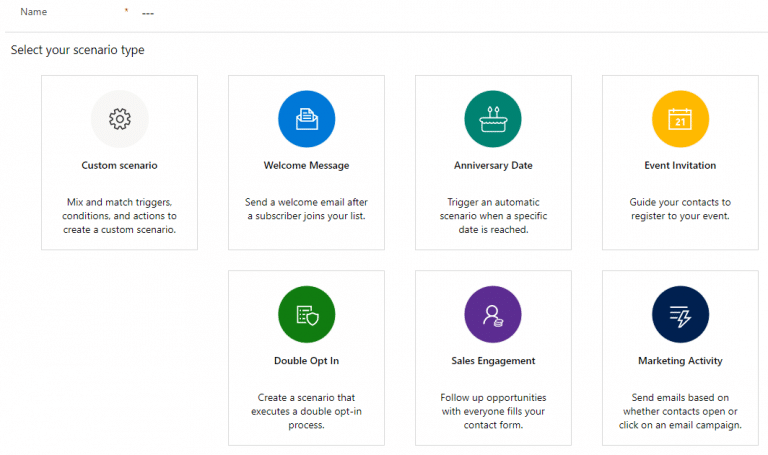 Note that the Custom scenario is not an automation template it is rather a default scenario without predefined actions.
You can add any triggers, conditions, entry points, etc. 
For more information about how to customise a scenario, view this article.
A Welcome message is the very first email your new subscriber or customer will receive, usually after the double opt-in.
It is your chance to impress your recipients from the beginning, interact with them and build valuable relationships.
This is why it is very important that you communicate your identity and design the welcome email in line with your brand image.
The template starts with an entry point when a member is added to your marketing list, so when they subscribe and when they do, they will receive an email that they can easily identify with a brand.
To help your audience you should use your brand logo and colours and connect with your audience by personalising the message.
Since we talk about a welcome message, show your appreciation to your audience and thank them for subscribing. You can facilitate their experience with your brand by informing them about the frequency they will receive the emails, news about your products/services or drive the traffic to your online store. However, try to keep the message short.
The anniversary date is a date when some event or something important happens that is noted/reminded each year after.
It is up to you which anniversary date you decide to use for your automation scenario. It could be a birthday of your customers, date of the contract, date of subscription, etc.
This is your chance to use the anniversary date and reinforce the relationship with your customers. Using appropriate voice, tone and the design of your email that you personalise to your subscribers you increase your brand image.
The template starts with an entry point linked to the important date, so when the date is repeated your audience will be reminded of a specific event.
Use this template when you want to remind your customers that they contract is expiring soon, or make your customers happy with a birthday coupon, it is all up to you.
Managing an event can be very time-consuming. This is why Touchdown facilitates this process by creating an event invitation template designed to automate your event management.
This includes an invitation to your event, the possibility to sign up, create reminder emails about the upcoming event and communicate with your audience after the event.
The template is set with predefined entry point, set of actions in a chronological order allowing you to simply adapt your scenario actions by clicking on them.
The double opt-in template is designed to help you obtain a subscription confirmation from your leads/customers when they subscribe to your newsletter or a marketing list.
This scenario helps you keep the database healthy and avoid accidental sign-ups. The scenario will inform the person that they need to confirm their subscription as soon as they sign up.
Engaging your leads can be a very lengthy task.  Sales Engagement scenario addresses an engagement of your leads through various prepared email sequences spread across a period thought to be appropriate when engaging with leads. Using this automated scenario, you can engage thousands of leads within a few minutes.  The scenario also removes the lead from the scenario when they interact with you in a form of a reply to your email that you can verify and detect easily detect whether they are interested.  
For detailed information about Sales Engagement, view this article.
Marketing Activity scenario is designed to help you manage the marketing campaigns based on the interactions of your recipients in a form of clicks and opens. Simply said, when the recipient clicks on a specific link among other links available within the email they are considered as interested by the information behind the link and will receive more information about this specific topic.
To create an automation scenario using one of the above-described templates select one of the templates and adapt the existing entry point, conditions and actions.
For more information, view this article.